Up to 10,000 people to see new port masterpiece at Aberdeen South Harbour open day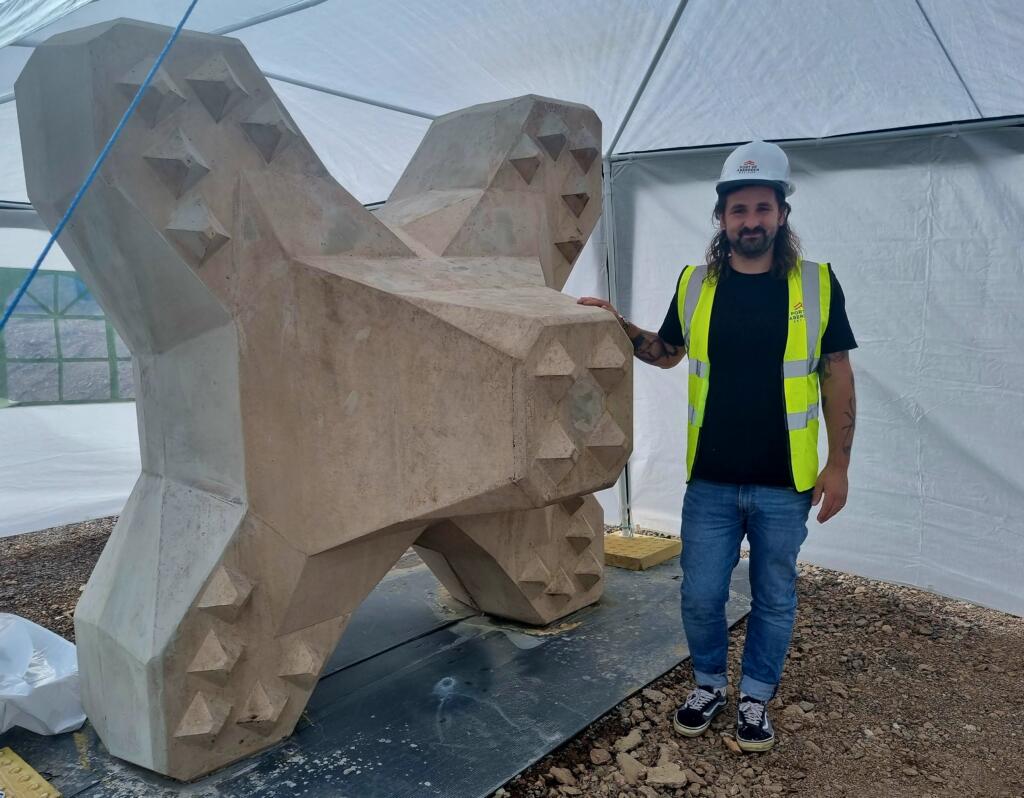 North East artist, Craig Fisher, is the winner of a unique design competition that will see his artwork unveiled by Her Royal Highness The Princess Royal at the official opening of Aberdeen South Harbour on Friday 22 September.
Port of Aberdeen has commissioned Craig to paint his 'Octopode Accropode' design on a concrete accropode which stands more than 2 metres high and weighs more than three tonnes. 
The mammoth structure will be painted at South Harbour before being transported into position on Dunnottar Quay, where it will be the centre piece for the official opening event attended by port customers, the community, politicians, port colleagues and more.
Craig is an Aberdeen-based artist with over a decade of experience, who started his creative journey as a graphic designer before progressing to large scale mural work in skateparks, which eventually grew into a full-time career. Craig is now an internationally established street artist with a global network of walls featuring his paintings of immense scale.
Craig said: "I'm super excited to have been selected to paint the accropode sculpture! Its sheer size and numerous angles promise to make painting it a fun and exciting challenge."
The official opening will be followed by a public open day on Sunday 24 September.
Due to overwhelming demand, an extra 5,000 tickets in 90 minute time slots are now available to book, taking the capacity to 10,000 people across the day.
The once in a lifetime event will feature a wide range of interactive and informative exhibits, local culinary delights and children's entertainment, such as:
Aberdam Dutch Fries
Aberdeen Science Centre's tabletop activities 
ASCO's augmented reality display and immersive headset
Denis Law Legacy Trust Streetsport's mobile sports arena
Love Rara 
Paella Escocia's 'The Wee Tapas Box'
Project Pizza
Sweet Toots Cakery
The Highlander Cafe
WM Donald's suction excavator 
Members of the public will also have the chance to enjoy vessel tours, featuring the Northern Lighthouse Board's POLE STAR vessel, and the opportunity to closely appreciate the accropode sculpture.
Sara Milne, Communications and Marketing Advisor, Port of Aberdeen said: "We are thrilled to collaborate with Craig for this project. He has flawlessly translated the project's objectives into his design, which is not only creative but also a true reflection of Port of Aberdeen.
"The public open day is a once in a lifetime opportunity for the port and the people of Aberdeen. We're eagerly anticipating the chance to greet visitors for a genuinely unforgettable occasion."
Tickets for the Public Open Day are available at Aberdeen South Harbour public open day Tickets, Sun 24 Sep 2023 at 10:00 | Eventbrite
Stay up to date with the latest news from Port of Aberdeen