Port supports local Aberdeen communities as cost-of-living crisis bites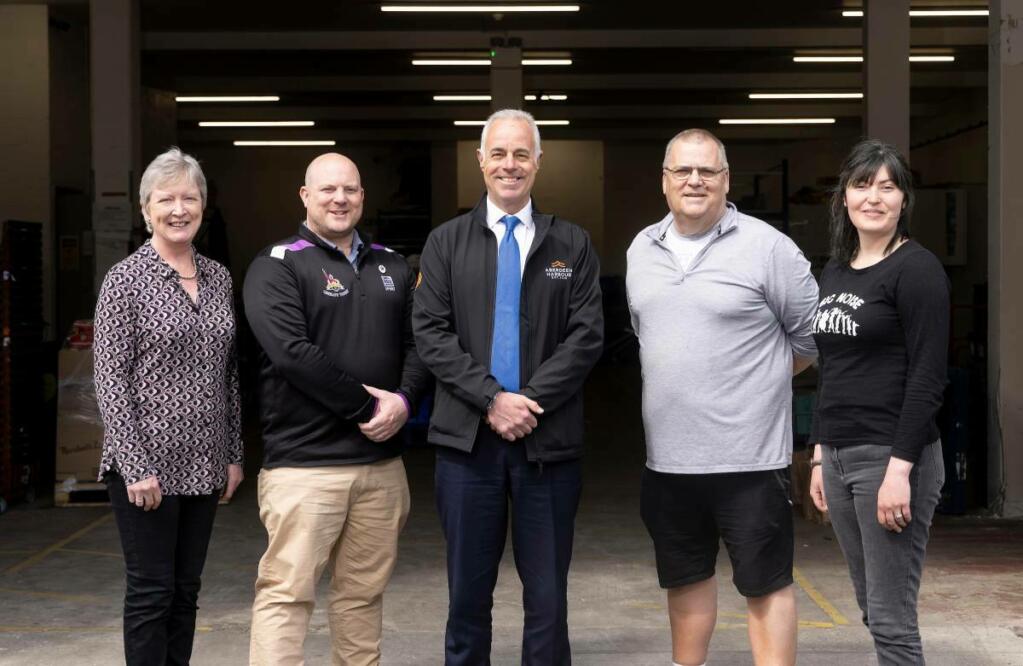 £30,000 of funding from Port of Aberdeen has been awarded to support local communities.
Charities and community groups operating locally to Port of Aberdeen, have received £30,000 from the port to help their work supporting individuals and families through the cost of living crisis.
Through the port's community action programme, supPORT-all, two awards of £10,000 have been granted to CFINE and Big Noise Torry (Sistema Scotland). Two further awards of £5,000 have been granted to the Inchgarth Community Centre and the Streetsport project, run by the Denis Law Legacy Trust.
"COVID-19 and the cost of living crisis have created a perfect storm for those most vulnerable in our communities. It is a privilege to support these organisations which make real improvements to the lives of many people."
CFINE provides a wide range of health and wellbeing services including the provision of food parcels, cooking classes, vocational training opportunities and mental health support. The port's £10,000 grant will contribute towards the running costs of the CFINE foodbank and cooking classes.
Fiona Rae, Managing Director of CFINE, said: "CFINE is delighted to receive this funding from through the supPORT– all programme and our associated project will continue to focus on tackling inequalities."
Since its launch in 2015, Big Noise Torry has worked with children at Walker Road and Tullos primary schools and more recently with secondary school pupils at Lochside Academy, using an orchestral setting to teach life skills and experiences. The port's funding will help expand the programme to a full symphony orchestra model through the introduction of wind and brass instruments to pupils.
Lorna Carruthers, Head of Centre at Big Noise Torry (Sistema Scotland), said: "We can't wait to have children playing trumpets, flutes, clarinets and more alongside our amazing young string and percussion musicians, ensuring as many young people as possible are benefitting from Big Noise Torry to improve their confidence, friendships and aspirations."
Located in Garthdee, the Inchgarth Community Centre provides education, fitness, recreation and support services for more than 2,500 people each week. The funds will be spent on new play equipment and accessible seating for children and adults with additional support needs. 
Paul O' Connor MBE, Chairman & Manager Inchgarth Community Centre, said: "There is a tremendous level of excitement amongst our users to start using the new facilities. The supPORT-all initiative is prime example of how Aberdeen's businesses can support the third sector."
Streetsport is children's charity Denis Law Legacy Trust's flagship programme, ran in partnership with Robert Gordon University, and delivers free sports and activity sessions for young people across Aberdeen City, particularly in areas of high youth annoyance. The funds will be spent on new sports equipment for participants.
Mark Williams, Chief Operating Officer of Denis Law Legacy Trust, said: "The funding will directly impact hundreds of young people around Aberdeen in a hugely positive manner, particularly in Torry where some of our busiest Streetsport sessions are.
Since 2014, the port has donated more than £600,000 to as many as 50 community groups and charities in the North East of Scotland, benefiting tens of thousands of children and adults. 
Bob Sanguinetti continued: "Working with and supporting the communities local to the harbour is incredibly important to us. We hope that we are able to enhance their work and look forward to getting involved in their projects."
Stay up to date with the latest news from Port of Aberdeen