Port of Aberdeen crowned Scotland's largest port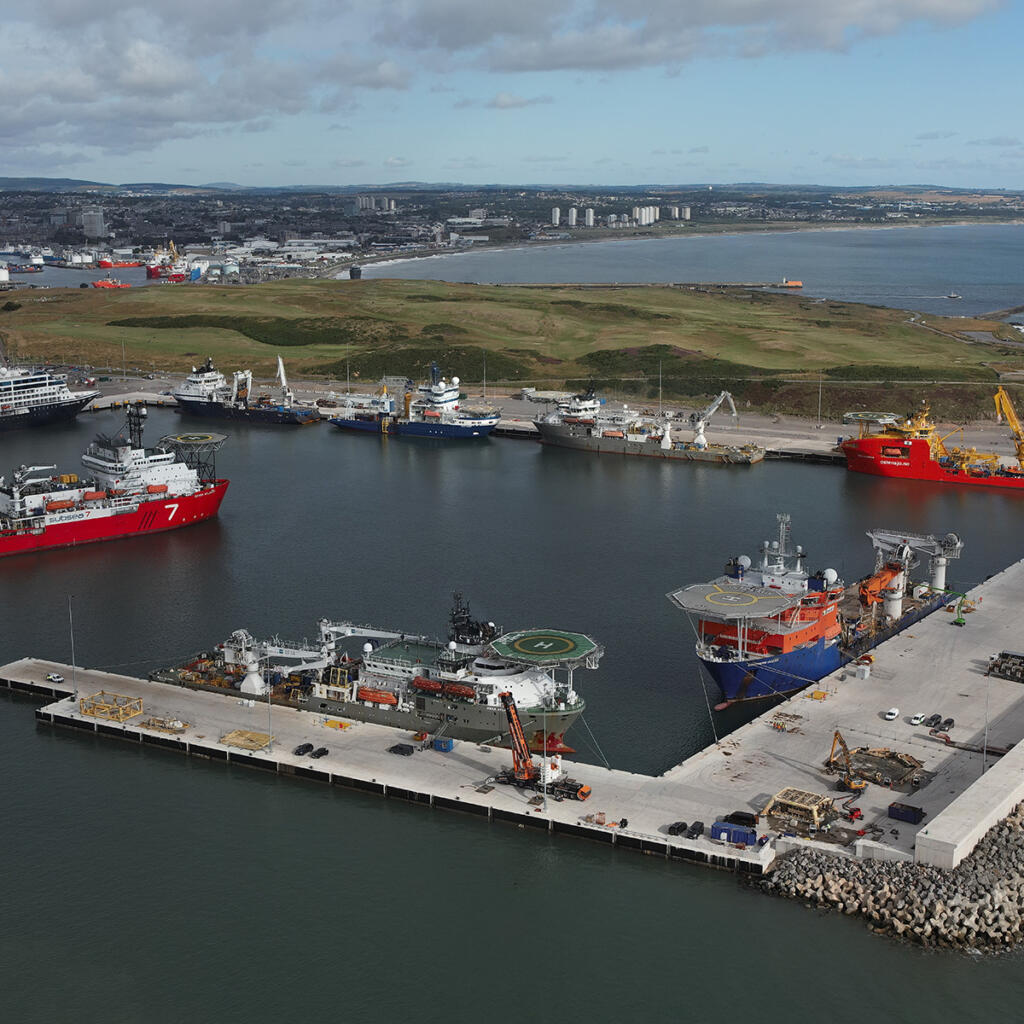 Port of Aberdeen's transformational £420 million expansion project is now fully operational.
Quayside construction is complete at Aberdeen South Harbour and the expanded port now offers its customers and port users 8km of quayside, making it Scotland's largest berthage port.
Her Royal Highness The Princess Royal will officially open South Harbour on Friday 22 September, marking the completion of the UK's largest marine infrastructure project.
A public open day at the new harbour is being held on Sunday 24 September and will feature vessel tours, exhibitions from port stakeholders, children's entertainment, and quality food and refreshments from local providers. Over 3,000 tickets have been secured by members of the public for the event in less than a week. The free ticketed event is available to book on Eventbrite here.
South Harbour adds an additional 1.5km of deepwater berths (up to a maximum of 15m depth) to the port estate and can accommodate ships up to 300m in length, a significant increase to the port's previous capability of 165m. It also has extensive heavy-lift zones, and 125,000m2 of flexible laydown space with expansive project areas.
A remarkable feat of engineering and collaboration, South Harbour is a testament to Port of Aberdeen's commitment to creating prosperity for generations and supporting the city's growth in energy, trade and tourism.
The new facility has been heavily utilised since the phased opening began in July 2022. The new harbour has attracted longer, deeper and wider vessels, while supporting new projects that would have previously sailed by the city. This increased activity supports local jobs, attracts local supply chain spend and investment, and the profits are reinvested back into the port to improve the facilities for future generations.
Bob Sanguinetti, CEO, Port of Aberdeen said:
"This is a momentous milestone for Port of Aberdeen, as the UK's oldest business completes construction of the country's newest harbour. This achievement reflects the dedication and determination of everyone involved in the project from concept to construction and now completion. The expanded Port of Aberdeen will play a pivotal role in supporting energy, trade and tourism growth across the region, and Scotland more widely, while supporting increased jobs and investment for decades to come. The official opening is fast approaching and we're delighted that Her Royal Highness The Princess Royal is joining us for the occasion. Tickets are now also available for our free public event and we look forward to welcoming everyone to see this transformational development first hand."
In conjunction with reaching this milestone, the port is also excited to unveil its newly refreshed website, designed to provide visitors with an enriched, user centric online experience. With an emphasis on usability and accessibility, the new website offers a clean, intuitive interface that makes it easier than ever for users to navigate and access the information they require and learn about Port of Aberdeen and the broader economic impact the port generates.
Stay up to date with the latest news from Port of Aberdeen