New dawn for North East tourism as first large cruise vessel arrives in Aberdeen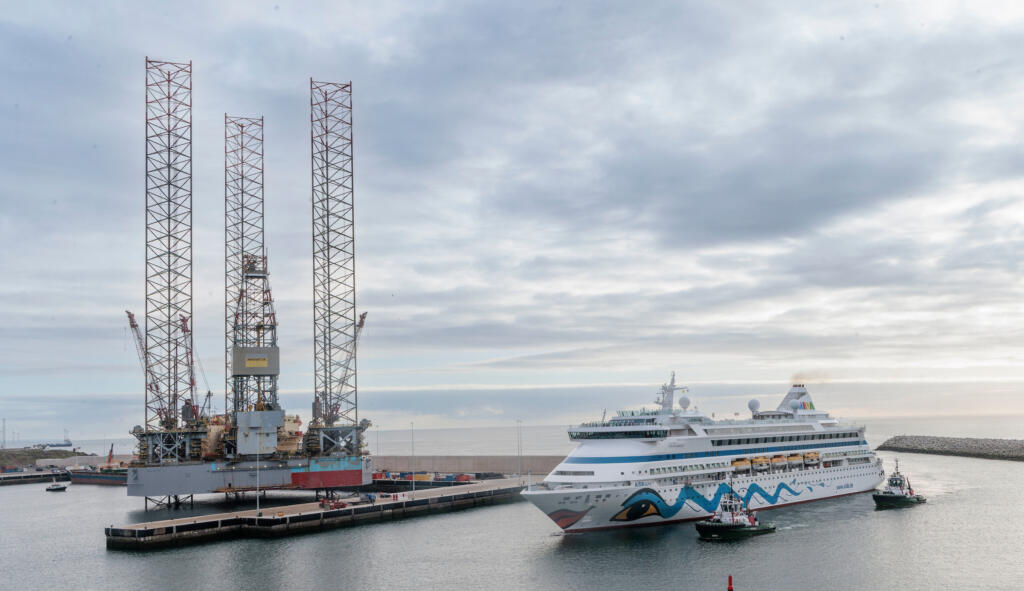 Port of Aberdeen welcomes first cruise call to new Aberdeen South Harbour
Port of Aberdeen has today (Tuesday 2 May 2023) welcomed the first cruise ship into the transformational £400 million Aberdeen South Harbour expansion. 
The 203 metre long AIDAaura, with capacity for more than 1,200 guests, is the longest vessel to visit Port of Aberdeen to date. The vessel arrived from Hamburg, Germany for a full day visit as part of a Scottish cruise.  
The AIDAaura berthed on Castlegate Quay and the guests were greeted by a 50-strong pipe band and Highland dancers from Robert Gordon's College and 'Welcome to Aberdeenshire' volunteers. 
Together with today's arrival of the polar expedition ship National Geographic Resolution into Aberdeen's North Harbour on its maiden call, the port's cruise season has kicked off to a strong start. Aberdeen will welcome 39 cruise calls between May and October* this year, with up to 31,000 guests visiting the region which could boost the local economy by £4.2 million**. 
The expansion of Port of Aberdeen is expected to catalyse year-on-year growth in cruise tourism. More than 50 calls are already booked for 2024, including the impressive AIDAdiva which measures more than 250m in length and accommodates over 2,000 guests.
Bob Sanguinetti, Chief Executive, Port of Aberdeen, said:
"t is fantastic to see the first cruise call arrive at South Harbour today, which marks a new dawn for tourism in the North East of Scotland. While the tourism industry is still recovering from the impact of the pandemic, we're very encouraged with the number of calls to the port secured for this year and next."
"Port of Aberdeen is a gateway to the amazing attractions of North East Scotland. We look forward to growing our work with the international cruise industry in the coming years, as tens of thousands guests experience the incredible scenery and culture that the region has to offer."
Alex McIntosh, Harbour Master, Port of Aberdeen, said: "The arrival of two very different ships into Port of Aberdeen on a single morning demonstrates how our expertise, capabilities, and infrastructure can support a wide range of cruise lines, from the smaller, boutique vessels to much larger ships operating across the globe."
Chris Foy, CEO, VisitAberdeenshire, said: "The arrival of the first cruise ship into the South Harbour marks a step change for tourism in the North-east as we welcome larger vessels and more passengers than ever before.
"Disembarking guests - who will be met by our Welcome to Aberdeenshire volunteers – will have a wide range of experiences to enjoy during their time on our shores, planting the seed for future travel back to Aberdeen and Aberdeenshire for a longer stay."
Adrian Watson, CEO, Aberdeen Inspired, said: "It is great to see the inaugural arrival of a large cruise ship to our wonderful South Harbour in what has been a much-anticipated day for the city. 
"Aberdeen Inspired is delighted to work with Port of Aberdeen and so many other partners on the strategy and we look forward to welcoming every increasing numbers of cruise passengers to the city centre where they can explore the diverse cultural, hospitality and retail offering".  
Cllr Martin Greig, said: "It is an enormous pleasure to welcome visitors arriving here by sea. This is an historic occasion with the South Harbour becoming a new gateway to the city and the region. There is so much of interest for travellers to enjoy here. 
"Feedback from national and international travel trade operators at VisitScotland Connect, held at P&J Live last week, confirms that there is a healthy appetite for visitors to discover and get to know Aberdeen better."
Cllr Mark Findlater, Leader of Aberdeenshire Council, said: "The development of the Port of Aberdeen provides such a great opportunity for Aberdeenshire. The visitors arriving to this new facility will find themselves immediately presented with everything that Aberdeenshire has to offer, from mountain to sea, and I am sure that the close proximity of a range of attractions will appeal to the cruise passengers for years to come."
Russell Borthwick, Chief Executive, Aberdeen Grampian Chamber of Commerce, said: "Today is a big day for the region and is just the beginning, bringing millions of pounds of spend and economic benefit to the businesses of the North East, Majesty Queen Elizabeth's favourite place on earth. 
"With stunning coastline, countryside, castles, world class golf courses and a city with great green spaces, museums, restaurants and other places of interest, there's something for everyone. Hopefully, they'll see enough on their short trip to whet the appetite for more."
Stay up to date with the latest news from Port of Aberdeen