Former Business Secretary backs North East Scotland Green Freeport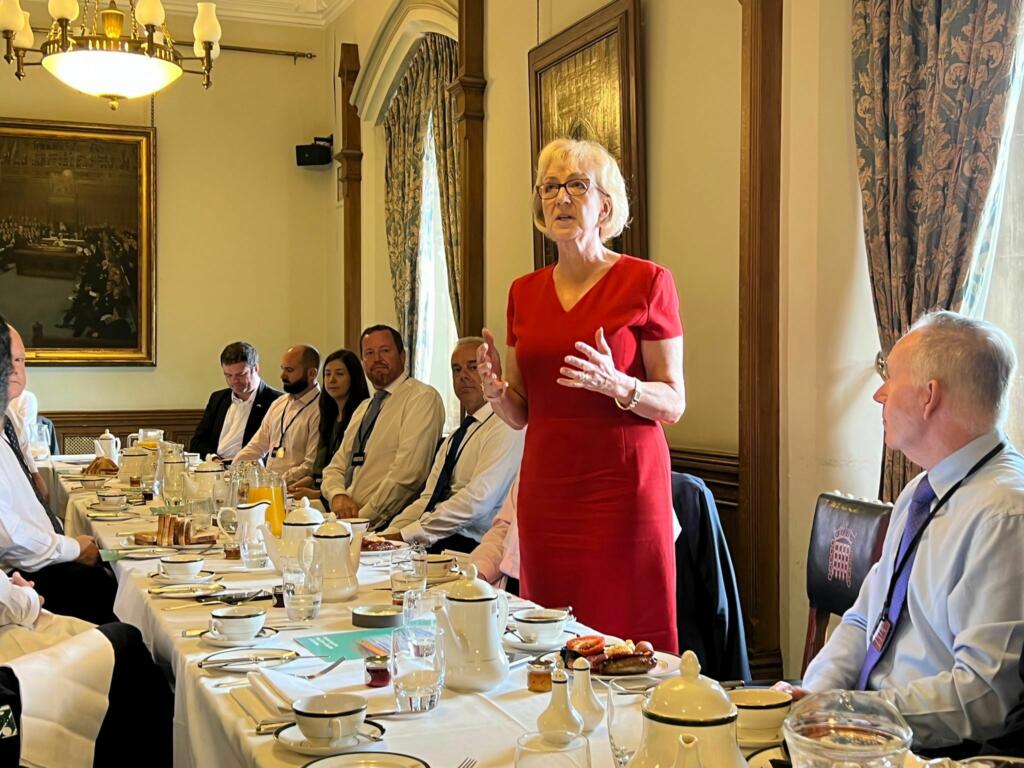 Former Secretary of State for Business Andrea Leadsom has offered support to the North East Scotland Green Freeport bid.
The MP, who now chairs the influential business and energy committee of Conservative backbenchers, said the region has a "massive role to play" as the UK leads the world to net zero. 
Speaking in Westminster on Wednesday 20 July, Ms Leadsom told a cross-party group of parliamentarians and leading business figures that "net zero is the biggest opportunity" for jobs and growth in the UK, predicting that the green economy will grow from 300,000 to three million jobs by 2030.
Highlighting opportunities for North East Scotland and the rest of the UK, she said:
"The green economy is a massive story of growth and opportunity. You'll have apprenticeships, people transitioning from offshore oil rigs to offshore wind farms and skilled engineers retraining."
The North East Scotland Green Freeport bid will usher in a new era of accelerated regeneration, decarbonisation, innovation and investment, transforming the region to the Net Zero Capital of Europe.
A successful bid will bring large-scale, advanced manufacturing to Aberdeen to maximise economic benefit from Scotland's rapidly-growing offshore wind and hydrogen sectors and accelerate pioneering carbon capture projects on the Buchan coast. The partners believe that the fusion of Green Freeport status with the North East's world-leading energy expertise will lead the UK's decarbonisation drive and just transition to a Net Zero economy.
Ms Leadsom added: 
"Hydrogen and carbon capture are mission critical if we are to decarbonise by 2050, which we will do. With brilliant business people and entrepreneurs like you, replicated around the UK, we can actually get there much sooner.
"Government needs to get out of the way, it should facilitate and push for things to happen, create the freeports and all the incentives they offer but then get out of the way and let business deliver."
The North East Scotland bid will also create a regional customs hub for premium and globally recognised Scottish food and drink exports, building direct links to key markets for products such as Scotch whisky, seafood and meat produce.
Ms Leadsom praised the region's seafood and food and drink industries, stating that it is a "massive opportunity" for growth in international markets.
David Duguid, MP for Banff and Buchan, spoke of his commitment in pushing for a successful Green Freeport: 
"It was fantastic to welcome representatives from the North East Scotland Green Freeport and stakeholders to hear about the immense benefits these proposals would bring to our area. 
"This is a truly exciting period and I will continue to push both of Scotland's governments to support this transformational bid. 
"In my own constituency, a Freeport would deliver unprecedented investment opportunities in addition to our bustling port, our thriving fish market and the Acorn CCS and hydrogen project plans at St Fergus.
"A freeport in the North East would harness the power of our region's workforce, create thousands of jobs and grow our established and emerging sectors."
Further information about how to back the bid can be found at www.northeastscotlandgreenfreeport.com. Aberdeen and Grampian Chamber of Commerce is also drafting an open letter of support which businesses can sign to demonstrate support. Further information is available at www.agcc.co.uk.
Stay up to date with the latest news from Port of Aberdeen