Boost for city as Tall Ships set sail for Aberdeen once more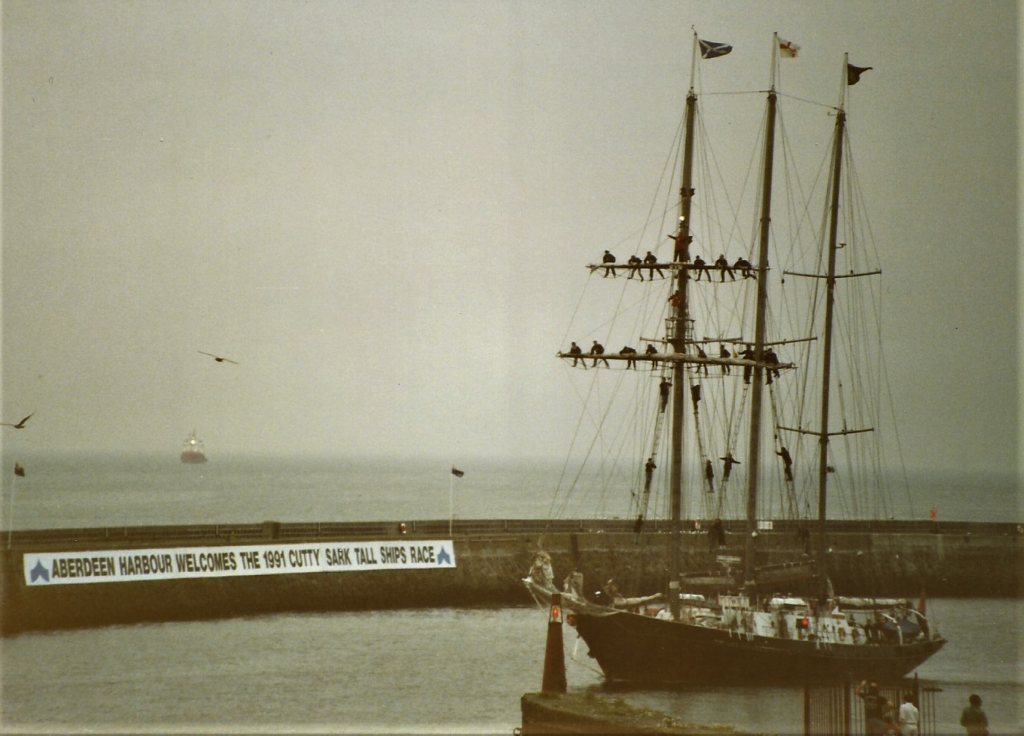 Aberdeen has successfully bid to bring the much-loved Tall Ships back to the Granite City in 2025.
Aberdeen has successfully bid to bring the much-loved Tall Ships back to the Granite City in 2025 - for the first time in over a quarter of a century - it was announced today (Saturday 19 November).
The news will bring back happy memories for those who remember when the city previously hosted the hugely popular event in 1991 and 1997 and is the result of the partnership by Aberdeen City Council, Port of Aberdeen and Aberdeen Inspired which has received support from organisations across the North East.
The Tall Ship will visit four ports – Le Havre and Dunkirk in France, Aberdeen and then Kristiansand in Norway.
The announcement sends a clear message on Aberdeen's credentials to host an international event on this scale.  As the only UK host port, it will attract interest from all over and is a key element of the overall plan for Aberdeen to attract international conferences, festivals and events.
An audience of half a million people from near and far is expected while the Tall Ships event is in Aberdeen. They can look forward to seeing between 30 and 50 magnificent sailing vessels, visit a temporary nautical themed village, a crew parade down Union Street, parties, light show and departure celebrations.
Locals and visitors can also look forward to a series of maritime events in the run up to the Tall Ships and whet appetites for the main attraction as the huge organisational asks commences, led by Councillor Martin Greig, Aberdeen City Council's culture lead.
Aberdeen is one of four ports chosen to host the fleet of ships on a route that will also visit (insert other ports) between June and August. The fleet will arrive and remain in Aberdeen for the four days of events and celebrations.   
Bob Sanguinetti, Chief Executive, Port of Aberdeen, said:
"The Tall Ships Races is a spectacular event, and we are proud to be a host port in 2025. Many people have fond memories of the Tall Ships visiting Aberdeen and bringing it back to the city after almost 30 years is an incredible opportunity."
"We look forward to working with Aberdeen City Council, Aberdeen Inspired and stakeholders from across the region to deliver an event that will benefit local communities, create wider economic prosperity, and engage a new generation of young people in the city's rich maritime heritage."
Lord Provost of Aberdeen, Dr David Cameron, said: "This is absolutely terrific news for the city of Aberdeen. Everyone will join me in looking forward to 2025 and welcoming the Tall Ships back to inspire a whole new generation of Aberdonians.
"This is proof, if any were needed, Aberdeen is nothing if not resilient and our cultural renaissance has played a huge role in helping boost the economy with top class festivals and events such as this.
"Well done to our bid team for their submission which made such a positive impression of the judges."
Council Co Leader, Councillor Alex Nicoll, said: "This is a massive boost to Aberdeen not just to the people of the city who have taken the Tall Ships to their hearts over the years but also to our local economy.
"The importance of our all-year-round cultural offering to our businesses cannot be overstated and, huge events such as the Tall Ships will play a crucial part as we seek diversify our economy.
"The whole mood of the city will be lifted by the news."
Fellow Co Leader, Councillor Ian Yuill, said: "This is wonderful news and I'm sure I speak for the vast majority of Aberdonians when I say we are thrilled to be able to welcome back the Tall Ships to Aberdeen.
"Our task now between now and 2025 is to ensure a seamless transition of the harbour from one of the UK's busiest ports to a scene of spectacle, festivity and learning.
"With our vast experience of successfully hosting events of national and international significance in recent years, we have every reason to be confident that the Tall Ships will be every bit as successful as previously."
The winning bid highlighted how Aberdeen, as a forward-looking international city came alive during the previous visits of the majestic sailing ships to the harbour whose extension is currently nearing competition and will enhance the occasion in three years' time.
The bid team also focused on Aberdeen's expertise, experience and capacity for hosting and managing world class events such as the Tour of Britain, BBC Sports Personality of the Year, Nuart and Spectra, the city's facilities and thriving cultural sector and above all the enthusiasm of Aberdonians for welcoming the Tall Ships back.
Fundamental to the success of the event is the participation of young people as trainees.  Working with the organisers Sail Training International, young people will have the opportunity to become onboard trainees and learn nautical skills while others will have the chance to volunteer to help ensure the event is a great success once again.
Adrian Watson Chief Executive at Aberdeen Inspired said: "Aberdeen Inspired was delighted to bring the proposal to Aberdeen City Council and Port of Aberdeen, both of whom showed great ambition and vision in working with us in submitting the now successful bid, that will bring the largest family free event of its kind in Europe back to Aberdeen in 2025.
"The hard work begins now, with the very real potential to build in a multitude of Tall Ship legacy projects that will benefit not only the city, but wider north-east and country."
Image credit : Eddie Aitken
Stay up to date with the latest news from Port of Aberdeen