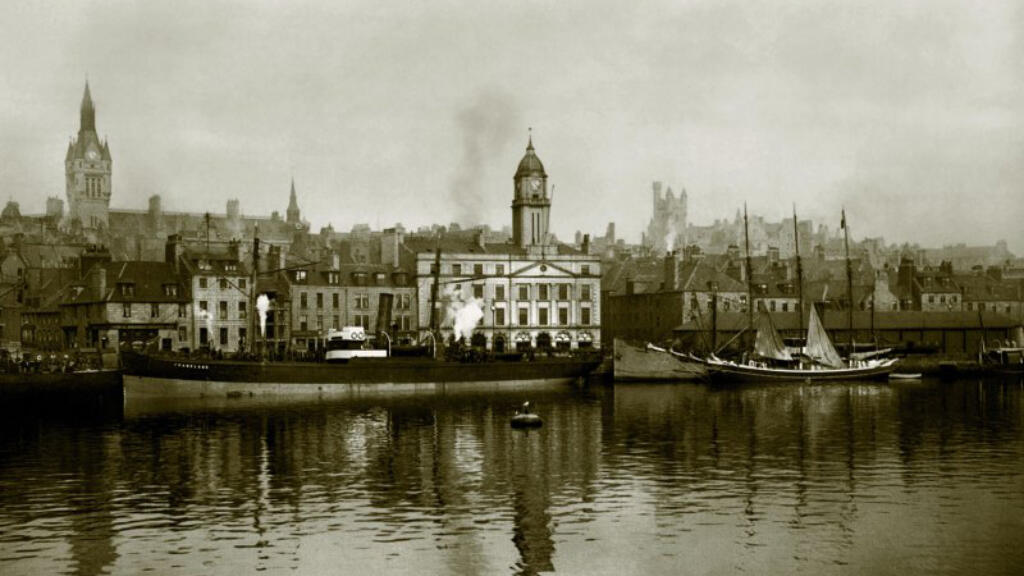 One of the most famous ships built in Port of Aberdeen was the Thermopylae.
She was a tea clipper ship built by Walter Hood for the Aberdeen White Star Line (George Thompson & Co), designed by Bernard Waymouth, and launched in 1868.
The clippers were renowned in the 1800s for their spectacular feats of speed when travelling the trade routes to and from the far-flung ports of the British Empire. 
Thermopylae was intended for the London and China trade routes but first found fame after sailing from London to Melbourne in just 60 days. The Melbourne Argus described her as a "fine specimen of naval architecture, a model of symmetry and beauty… conveying an idea of perfection."
In an attempt to rival the Aberdeen clipper builders and the dominance of Thermopylae itself on the tea trading routes from China, the now famous Cutty Sark was constructed on the Clyde, and the stage was set for a race between two of the world's fastest ships. 
In 1872 the two ships left Shanghai to go head-to-head back to London. The Cutty Sark built up a substantial lead before losing her rudder on the Cape of Good Hope and was forced to dock in Cape Town for repairs. Thermopylae surged ahead, arriving in London a week ahead of her rival.
The clippers captured the public's imagination just before steamers usurped sail ships. Sadly, posterity has not been kind to the Thermopylae. Whereas the Cutty Sark is now majestically restored at Greenwich – a popular tourist attraction and a lasting exemplar of these beautiful ships – Thermopylae lies sunk off the coast of Lisbon after ending her days being used for target practice by the Portuguese navy.
Source: www.aberdeenships.com, Royal Museums Greenwich
BACK TO ALL HISTORY