Port of Aberdeen pledges support to Armed Forces personnel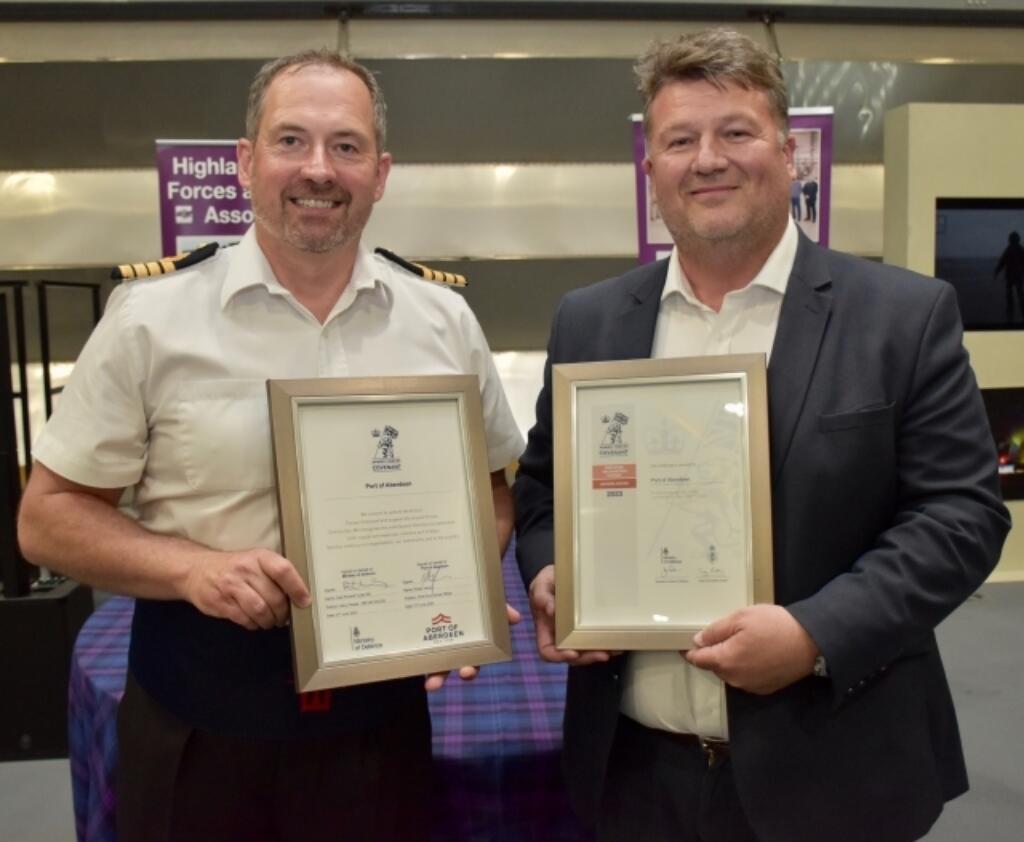 Port of Aberdeen awarded Bronze Employer Recognition Scheme status
Port of Aberdeen has signed the Armed Forces Covenant and received its Bronze Defence Employer Recognition Scheme (ERS) Award.
The port pledged its support on the 21st of June as the country was preparing to celebrate Armed Forces Day (Saturday 24 June), and now joins many other Covenant signatories across the North East of Scotland.
The private signing event, aboard HMS Prince of Wales at Rosyth Dockyard, was attended by Port of Aberdeen Chief Commercial Officer, Roddy James, and HR Advisor, Amber Inglis, in addition to reservists and their families from RMR Scotland and RNR Scotia who have delivered valuable service in support of the Maritime Reserves over the past year.
The Covenant honours an agreement between the Armed Forces and Port of Aberdeen that ensures those who serve in the Armed Forces – whether Regular or Reserve, those who have served in the past, and their families – will not face disadvantages arising from their service in the provision of public and commercial services.
Port of Aberdeen will seek to uphold the key principles of the Armed Forces Covenant by:
Promoting the fact that Port of Aberdeen is an armed forces-friendly organisation.
Seeking to support the employment of veterans young and old and working with the Career Transition Partnership (CTP), in order to establish a tailored employment pathway for Service Leavers.
Striving to support the employment of Service spouses and partners.
Endeavouring to offer a degree of flexibility in granting leave for Service spouses and partners before, during and after a partner's deployment.
Seeking to support our employees who choose to be members of the Reserve forces, including by accommodating their training and deployment where possible.
Offering support to our local cadet units, either in our local community or in local schools, where possible.
Emphasising the significance of the Covenant signing Jeanine Maindron, Head of People and Culture, Port of Aberdeen said:
"It is with a great sense of pride that we enter into this partnership with the Armed Forces. As an employer of former Service personnel, the signing of the Covenant demonstrates our recognition of their contribution to our organisation, our community and to the country. It cements our commitment to providing meaningful employment opportunities and support to Service personnel, reservists, veterans, the cadet movement, and military families."
After the signing Highland RFCA Regional Employer Engagement Director, Ray Watt said:
"We're delighted to be able to welcome Port of Aberdeen into our Armed Forces Covenant family and Employer Recognition Scheme. This is a superb company that delivers so much facility and support to enable many other thriving businesses to deliver their role in the North Sea. We look forward to supporting and working with them in the future."
Stay up to date with the latest news from Port of Aberdeen