Day in the Life in Maritime - Michael Smith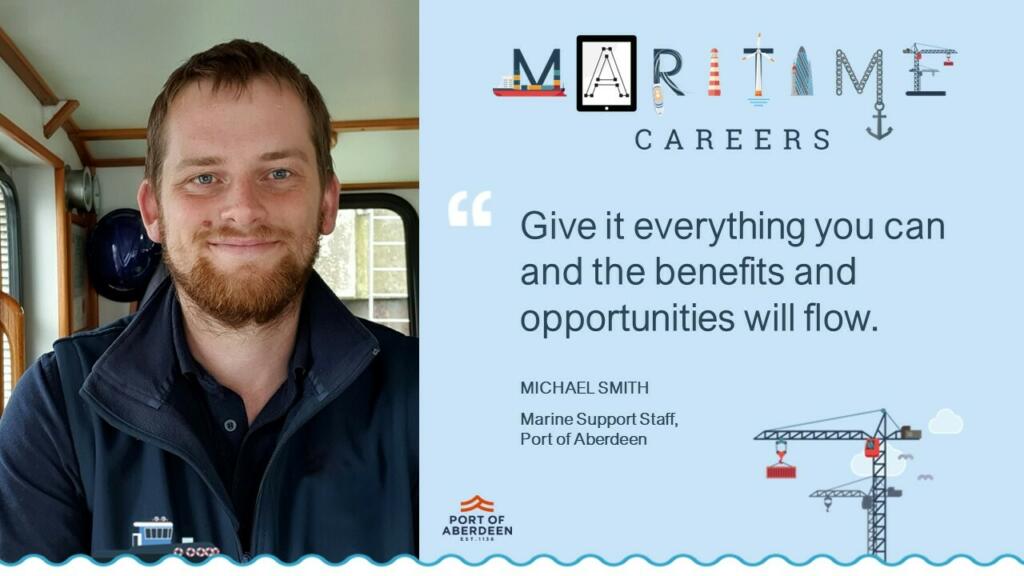 Say hello to Michael Smith, a member of our Marine Support Staff team. Find out more about Michael and his career journey in the maritime sector below.
What does your current role at Port of Aberdeen involve?
My current role at the port is quite varied, as Marine Support Staff we assist with all things afloat and occasionally some onshore operations too. My primary job within my role is as a Coxswain, which means I am responsible for the safe operation of the Port's workboat the 'Sea Herald'. The vessel's main role is to carry out hydrographic survey of the sea bed in both the North and South harbours, in addition to this we also carry out debris removal on the surface and on the sea bed using the bed levelling box mounted on the aft of the vessel. In addition to the workboat duties we also cover holidays and sickness on the Port's pilot boats, we were used as linesmen at the new South Harbour and when the Port's vessels are out of the water we wash and paint them before they go back into the water to resume operations.
What led you to this career?
I was brought up in Shetland, surrounded by water and boats so I always knew I wanted to work on boats in some way. After school I did a college course in creative industries focusing on radio broadcasting but very quickly realised I still wanted to work on boats. I started off with a local marine services company as a trainee deckhand, progressing onto becoming a coxswain with them, and eventually moving over to work for Port of Aberdeen in 2019.
What was your dream job growing up?
I always knew I wanted to work on boats like I mentioned before, but I guess my dream job was to work on the inter island ferries back home in Shetland.
What are three words to describe Port of Aberdeen?
Teamwork. Encouraging. Inclusive.
What do you like most about working at Port of Aberdeen?
The variety of the workload and the team I work with. 
What do you find the most challenging about working at Port of Aberdeen?
Operating a small vessel within a busy port environment is not without its challenges, but everyone has a job to do, and we are very experienced in what we do!
How has Port of Aberdeen helped you in your career development?
The Port has helped me with renewing training courses which I require to be able to do my job, and they provide us with opportunities to attend other training courses to progress. Recently I attended a mindfulness of wellbeing training course which has helped me with managing my workload to the best of my ability whilst not stressing about things I can't control.
What advice would you give to new Port of Aberdeen recruits or prospective candidates?
Give it everything you can and the benefits and opportunities will flow. Port of Aberdeen is a fantastic place to work with a great team of people! 
Stay up to date with the latest news from Port of Aberdeen