Day in the Life in Maritime - Amber Inglis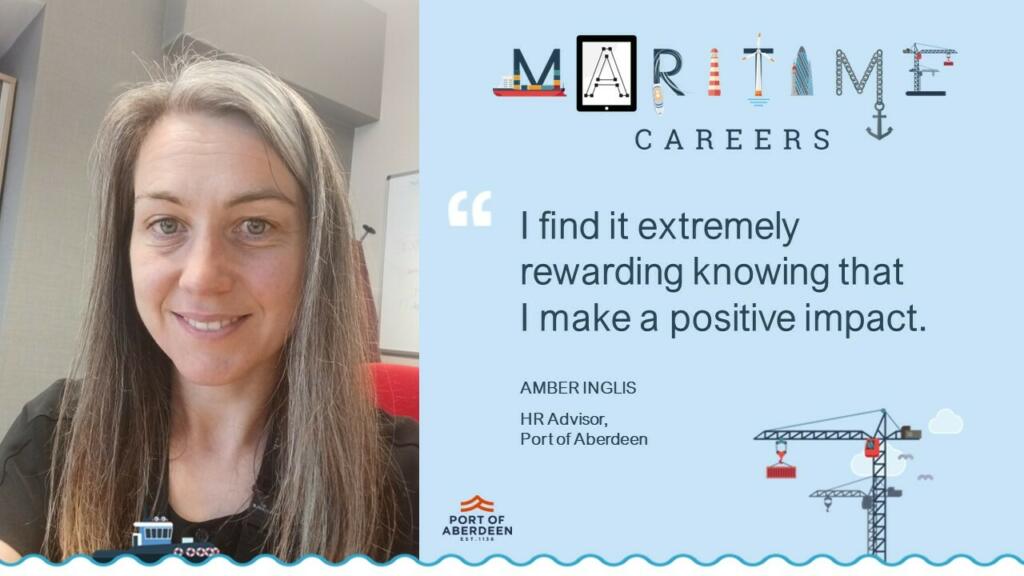 Say hello to Amber Inglis, our HR Advisor from our People & Culture department. Find out more about Amber and her career journey in the maritime sector below.
What does your current role at Port of Aberdeen involve?
My primary function is to engage with the workforce at Port of Aberdeen. I support employees through the employment life cycle – from early stages of recruitment and onboarding, through development and performance management, to the cessation of employment. And as we move into a period of growth and change, my focus as HR Advisor is engaging with employees to develop the empowered culture we want to achieve as part of our goals over the coming years.
What led you to this career?
While working in retail, post university, I developed a real passion for management of employees and the engagement of teams. That's when I decided to study towards an HR qualification, which I quickly decided to continue full time to make HR my career. I find it extremely rewarding knowing that I make a positive impact on the colleagues I work with, and that my actions influence people's working lives.
What was your dream job growing up?
I always thought I would be a teacher or social worker, as I really wanted to help children. Though I do a lot of this in my spare time now.
What are three words to describe Port of Aberdeen?
Exciting. Challenging. Rewarding.
What do you like most about working at Port of Aberdeen?
The variety of challenges I get involved in. I'm able to work on exciting new developments such as our employee wellbeing programme, at the same time as developing important policies, recruiting new teams, and supporting employees with important workplace issues. For me, the best thing is the balance of challenging situations and more exciting, fun developments.
What do you find the most challenging about working at Port of Aberdeen?
The changing culture – but it's an exciting challenge! The growth and development of our team, together with the new opportunities we are working on and the opening of Aberdeen South Harbour, requires a period of transition as we move into a different way of working. We are on a journey, with all of the ups and downs, resistance and challenges. But it's an exciting one, and I really feel the enthusiasm for it from the wider team.
How has Port of Aberdeen helped you in your career development?
Being part of a relatively small team, and the only person in my specific function, means I have autonomy to make decisions on the areas I feel will support the change we are trying to achieve. This provides me with the scope to develop and take on new challenges, knowing that I have the support from senior leaders across the business. I also have many experienced colleagues to mentor and support, while learning as I go. Also it's a safe environment to try new things, and I feel encouraged to take forward new initiatives with a view to continuous improvement.
What advice would you give to new Port of Aberdeen recruits or prospective candidates?
I would say we are a very close team, which makes Port of Aberdeen an enjoyable and supportive place to work. Everyone is treated as an individual and can make their position their own, with support to develop and contribute independently. Working at the Port is also incredibly rewarding because we're integrated into the local community through our Trust Port status and are at the heart of everything that happens in Aberdeen.
Stay up to date with the latest news from Port of Aberdeen